Kung-Fu Hustle : a new generation of fights is confirmed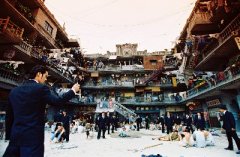 Here come the latest bomb of Stephen "Duracell" Chow : Kung-Fu Hustle, a big blockbuster following the rtrail of his Shaolin Soccer. And the comparison is justified : indeed, KFH outperformed his "footballistic" big brother, although SC held HK records in terms of budgect as well as of boxoffice. Except that Chow Sing-Chi clearly announces things in the very first minutes of the film : "No More Football !" (the answer to those waiting for a Shaolin Soccer 2 ?). But once the theme is put aside, you sometimes have the feeling to be in front of the same movie : forget Ng Man-Tat & co., forget the time of machine gun dialogues and action as a comic or narrative tool only an make room for new stooges like Lam Chi-Chung and for pure action, with a central place in the story. Special effects are present more than ever and despite a comic tone typical "Chow", you can notice some temperance in that aera which, coming from him, can only be explained by a export desire.
However, Stephen Chow never hid his admiration for martial arts. Without any low-level psychoanalysis attempt, I even think that he's always wanted to become akung-fu movie star, like his everlasting idol : Bruce Lee Siu-Long ; by the way, Chow has layed in his films several tributes to the little dragon along his career (the Shaolin Soccer goal is the most famous one). Thus, maybe should we see in Kung-Fu Hustle, the movie that Chow'd always wanted to make but it's a bit assuming, I agree.
Despite a few new faces, you can find the whole foot team and several familiar faces. Danny Chan Kwok-Kwan (SC goal) plays a bad guy under opium, which confers him an incomprehension look added to a limp agressivity, that he plays greatly. More generally, everyone helps but the atmosphere kinda weights in several comic scenes.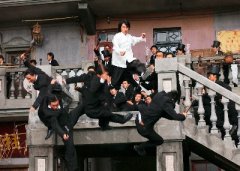 But the success of the film is mostly based on stunning special effects. Indeed, I can pretend that KFH is the movie the most advanced in that aera regarding fights (some will ask me : "And Matrix ?", which I'd answer to : "There are fights in Matrix ??!"). Wires and SFX combines greatly and even if some will be repulsed by this choice, the visual and sonorous escalation just gets you if you're opened enough. Kung-Fu Hustle confirms a wave of a new generation of fights launched by Crouching Tiger & Hidden Dragon and formalized by the last Zhang Yimou's (Hero & The House Of Flying Daggers) : fights with a lot of budget (probably for the first time in Hong-Kong) stuffed with what's technically the best these days. It even reaches such an excess that you almost can see the HK$ scrolling throughout the action scenes.
Changes always scared people, mostly when they're that radical but even if I have to sound like a young old timer, I find the new hand less efficient that the old one and I have the legitimate feeling that Hong-Kong cinema is kind of looking for itself after the post-handover dark time. Foreseeing the coming of this time, every great Hong-Kong stars emigrated to USA (Jackie, Jet, Michelle, Sammo and others), Stephen tried to do the same but no American or Canadian visas was delivered to him because he would've had unclear links with some triad members (yes !...I don't more on that but what I know is that tens of thousands of hong-kongese people are somehow affiliated to Hak Sei Wui, so it just can mean anything...) Therefore, he faced this wave and lost much but now almost ten years after the symbolic date, Stephen Chow seems to have definitely took revenge on destiny and is probably the only one (with Andy Lau Tak-Wah) to have stayed, have assumed and have succeed...hat in hand.
In Brief, it's the "Dollar vs. Creativeness" debat that opens Kung-Fu Hustle again, even if the main part of the budget went of cousre into the fights and they don't lack for creativeness. But it's in humour that cleverness and efficiency just tumble down, which is pity for a Stephen Chow film. Unwritten screenplay and self-restrained humour are thankfully balanced by some incredible fight sequences which, I'm sure of it, will open international market doors to Chow Sing-Chi and his recently renamed Crazy Kung-Fu.