A good chinese movie, well-behaved but with an interesting theme : pickpockets and other thieves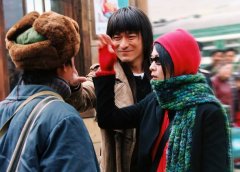 A World Without Thieves shows that China, in terms of mass market films, makes great steps. Indeed, the movie stages Andy Lau Tak-Wah and Rene Liu as a thieves couple on the verge of breaking up. She wants to drop everything and live a normal life but he, who considers himself as a master, just can't make his mind to quit the life he loves so much. The couple while getting on a train meets the young Dumbo (Wang Bao-Qiang), a naif guy who goes back to his homeland with his savings in order to get married. As he thinks that sending his money by post is too expensive, he decides to travel with it ; exasperated that his friends blame him for that, he challenges anyone getting on this train to steal his money in order to prove to his friends that he doesn't have to fear anything. Wrongly, because he thus attracts the interest of Andy Lau who find this insulting to his art, but also of a group of thieves led by Ge You also getting on the train. The thieves are going to confront each other in order to know who deserves to steal the money.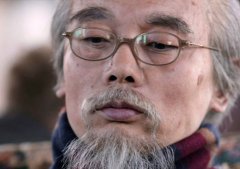 The movie theme seems more than delicate to get onto in China, but the tone chosen is however very politically correct. Even for the Hong-Kong movies, the export need toward "mother country" has made HK producers more sensitive to screenplays as soon as they treat a topic too difficult to get onto in China (prostitution, triads, dirty cops, ghosts...), but also on the general treatment of the topic (doubtful or unfair ending moral, deaths during the film...) ; therefore, you can picture yourself the usual atmosphere of chinese movies. A World Without Thieves isn't an exception but get onto an uncommon topic nonetheless. The characters are well-written, Andy's and Rene's ones are full of pain and contradictions, Dumbo as for him is very endearing, he trusts Men and hopes for a peaceful world.
Rene Liu is excellent, as usual, in her repentant thief role and Andy Lau who plays a gifted thief with a Bruce Lee style wig, does way better than several weeks before in Yesterday Once More. Ge You (the chronic gambler in To Live) is also excellent, and his henchmen Gordon Lam (the second dirty cops, colleague of Andy Lau in Infernal Affairs) et Yong You (the chinese gangster, improvised ally of Richie Ren Xian-Qi in Breaking News) are good as well.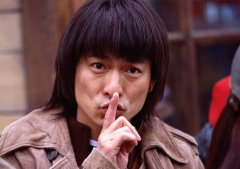 The movie offers us a few scenes where thieves confront each other. Some won't like, for it's entirely filmed with close-ups or slow motion, but those razors "fights" (essential tool for a pickpocket !) and those magicians counter are pretty original, and filmed as nicely choreographed ballets. All of this, carried by enjoyable musics like the one at the beginning : "La vie en rose" ! The direction is quite simple but turns out to be interesting in the confrontations scenes.
In Brief, despite a rather well-behaved tone, it's a touching and interesting story the one of those thieves confronting each other to steal the money of a poor guy who thinks the world is A World Without Thieves. By getting an excellent Rene Liu (Taïwanese) and a very good Andy Lau (Hong-Kongese), China shows that its ability to make good films for people at large while keeping in the same time, an aesthetic and a self-restraint which is so particular. A good movie to discover.