Except for those enamored of Andy Lau, Joey Wong or of Mong Kok area, stay away !...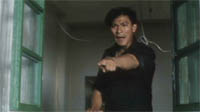 The Prince Of Temple Street is the typical "Andy Lau" movie of that period of his career. Little pitch to enlight you : Wah-Jai (Andy Lau Tak-Wah) is a young big-hearted Tai Lo (triad boss) who peacefully reigns on Temple Street (one of Hong-Kong main street, well-known for its markets, its prostitutes and its triads of all kind) until the apparition of a young woman preaching her evangelistic church and desirous to open a religious centre in the famous street. Which doesn't really please the local triads who ask answer for their boss, Andy Lau. Except that, this mobster happens to be a lover-boy and gets completely hooked on this little angel played by Joey Wong Cho-Ying. And then, the troubles arrive...The young and oretty virgin or the good old neighborhood symbolised by his stooge Ng Man-Tat...the choice is tough.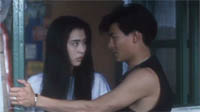 You'd have understood it, it's total nonsense : Andy Lau (who is a mobster, I remind you) assiduously writes a diary with names and dates...rather original and representative of the general dereliction. Actors don't believe in it, technicians neither apparently when you catch sight of a sound-pole in the corner of the frame...a great date in cinema history.
In Brief, you're in front of a "young, handsome & big-hearted triad member" movie type like Andy Lau himself must have done a dozen of times...The Prince Of Temple Street is a movie to watch only in serious cinematic shortage period, and even though...