One of the most punchy Milkyway's and a must-see assassin film.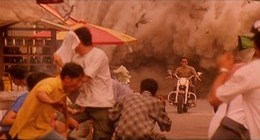 Johnnie To Kei-Fung opens with his brilliant Fulltime Killer, a wave of Milkyway's movies : hybrids films. If you take a step backward, it's reasonnable to compare Fulltime Killer with Running On Karma (as you can compare PTU with The Mission) because both have in common a changing theme and style which conduct the movie and divide fans opinions.
Indeed, Fulltime Killer is actually the meeting of two triangle-shaped stories which issues and treatments are quite different. Because instead of a duel between Tok (Andy Lau Tak-Wah) and O (Takashi Sorimachi), it's a three-fighter battle that takes place for O, as a prey, attracts Tok's desire to supplant him as the best assassin but also Interpol agent (Simon Yam Tat-Wah) Lee's will to cuff him. This story is crossed with a triangle-shaped love story, from the moment Tok seduces Chin (Kelly Lam Hei-Lui), O's secret love.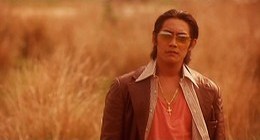 The atmosphere takes a U-turn when Simon Yam ends up booted out from the fight and thus, situated as the narrator (nice scenaritical spin) and when Kelly Lam leaves with one of them ; that way, the triangle-shaped relationships are broken and the narration evoluates on a new way.
The visual direction is amazing, crane shots are many and confer to the action scenes a takeoff ansd a choreographic fluidity worhty of a ballet. The music is efficient and the english song at the end is surprisingly good. References to action movies, mangas and video games are legions and add a generational side totally assumed. FTK is doubtlessly To's most international film when you know that the movie was shot at least in Hong-Kong and Macau, but in the story trafels between Korea, Malaysia, Hong-Kong and others but also for it's the first time that Johnnie To made the coming-out of his international influences.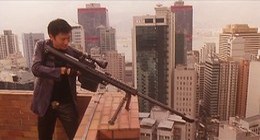 Actors are also high level ones, the all-Japanese sobriety of Takashi Sorimachi whose show is (too much ?) stolen by Andy Lau, all-out in "over-playing". He lives in his own show and seems to be racing with his death because no risk can hold him back. O kills dicretely, and flees without traces while Tok stages with style his executions like his favourite movies, as loudly than efficiently. Simon Yam is also imposing in the first par of the film, showing a high-handed self-assurance and an unrelenting desire to arrest O. He is as good after the turning point in a totally different style. Kelly Lam, on the other hand, is kinda short, a bit too much, which is amplified by the skills of the others.
In Brief, beyond the apparent confusion, it's a true achievement for Wai Ka-Fai at the scenario and Johnnie To at the direction. The brutal change of style, the crossed thematics and the asssumed international references will repulse many, yet Fulltime Killer is indeed one of the greatest star of the milkyway...