"One Nite" ; "In Mongkok"...everything is in the title of this excellent thriller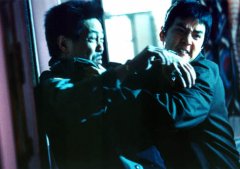 One Night In Mongkok is without a doubt the best 2004 HK thriller (though it may also be the excellent Love Battlefield) and is anyway the most typically local. But instead of focusing on the atmosphere, the rythm or the characters, Ill rather talk about this title and more particulary about this Mongkok it contains.
Small briefing on Mong Kok : It's a district which isn't on Hong-Kong Island itself, but on Kowloon (litterally "9 Dragons"), the peninsular part (and not insular) so attached to the Mainland, of the british ex-colony. The gigantic skyscrapers and rich districts are on HK Island (except for districts like Wanchai or the old HK near Hollywood Road), the popular and cultural Hong-Kong is on Kowloon. The two main districts of this par of HK are TST (Tsim Sha Tsui) and Mong-Kok. TST abounds with office buildings and latest fashion shopping malls, but Mong-kok has managed to keep its typical aspect and matchless atmosphere. This district is THE district, the one which represents the best all the Hong-Kong culture, because can be found there innumerable streets markets, small typical restaurant, underground DVD shops, and many others. But it also posess this status because it's THE triad district (and massage parlors, prostitutes and everything that comes along...).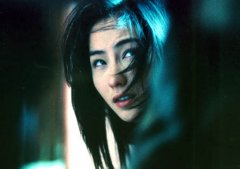 Therefore, even if ONIM is far to be the first movie taking place or treating of this aera, coming back there and giving it a narratively and visually central, give back nonetheless to HK thriller, ideal bases fo an excellent movie of that genre. Because it's probably the main problem in lots of recent Hong-Kong productions that tend to "internationalize" themselves too much and their action, if you put the language aside, could as much happen in Tokyo, Seoul or even Los Angeles. Because I even pretend that Derek Yee Tung-Sing has managed to make of Mong Kok the content as well as the container of the movie, a true character, omnipresent, watching and endorsing the actions of the protagonists. Indeed, we even get a few shots smack in the middle of the rabble (for one who knew the hell of Mong-Kok's sidewalk where uncaring cigarettes and umbrellas owners become your worst ennemies, one can understand the logistical deed put in place for a shooting in this location) which confers to the film a geographical suffocation reinforced by this temporal "in camera", by the way everything is in the title : One Nite In Mongkok ("One Nite" : temporal ; "In Mongkok" : spatial). Besides, every Goo Wak Jai (triad member in cantonese) business are dissected : magazines and newspaper streets stalls, stewardess karaoke bars, car parkers, mini-bus networks...and with complete numbers to indorse the whole.
By the by, it may not worth much but One Nite In Mongkok is actually the sequel of Double Tap. Let me explain : the cop character, inspector Miu (transcripted Milo in subtitles) is in fact the cop from Double Tap played by the same actor for both films, Alex Fong Chung-Sun. Everything's here : the same name, the same nurse wife (whom you only see in a cameo here, played by Monica Chan Fat-Yung in both), and from Chin Ka-Lok's line : "he's withdrawn since he's killed a man (who is actually Leslie Cheung...).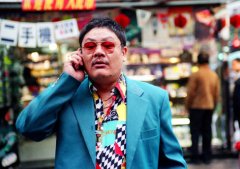 Moreover, the writer, producer and director of One Night In Mongkok, Derek Yee, was already writer and producer on Double Tap. However, the two movies don't have more links than those ones, and watching Double Tap, beyond this small references, doesn't bring anything more to the watching of this one.
Actors are excellent, all of them. Daniel Wu Ho-Yin is deep even if Mandarin language does seem to bother him a bit in his acting, Cecilia Cheung Pak-Chi is more beautiful than ever and her playing seems to get better each time, Alex Fong, whom I didn't appreciated much before, appears to be quite convincing compare to past roles although he's still a bit too "linear" in his playing. Supporting roles are also brilliant, Lam Suet and Chin Ka-Lok fill their tasks and play spotlessly.
The visual direction is stunning although it never "shows" too much, and mostly lays a touchable atmosphere which compensate for the lack of actual action scenes.
In Brief, thanks to excellent actors, a top-notch direction but mostly thanks to a scenario and characters very well-written, One Night In Mongkok distinguish itself from many recent HK productions by a background and a quite typical tone while being easily approcheable in the same time. An excellent thriller, a must-see.