When Medias becomes a weapon in the middle of a battlefield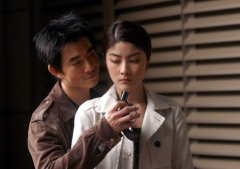 Johnnie To Kei-Fung was called to present his Breaking News in Cannes 2004 and I think he deserved it well. Indeed, for a majority of people here in western countries, there is a real confusion between Hong-Kong and chinese cinema despite the fact that each has its own history, its own codes, even its own language but still, people keep thinking that Wong Kar-Wai is chinese, an opinion wich makes any jugements wronged as the two are so distant from each other and leads people to think that only two kind of movies can come out from Hong-Kong : art films and kung-fu movies. It's a fact that kung-fu movies represent a great proportion in hong-kong industry, but on the other hand, Wong Kar-Wai is firstly the only director (except Ann Hui On-Wah and a few others) made in HK with a career of such art films ( although this word doesn't mean much). And secondly, the unquestionnable talent of WKW seems to decrease (he's not the only one) since his "internationalisation". But why do I talk about Wong Kar-Wai in a Johnnie To's movie review ? Well, juste because between a handle of independant movies and legions of wu xia pan, there are in Hong-Kong movies like Johnnie To's.
Firstly, To is the unlabelled, some even start to despise him for not wanting to fit in a style, he makes all kinds of films and treat all kind of themes : comedies, romances, dark thrillers, hybrids films but also buddhism, judo, triads, office life, etc... The subjects he choose and the visual approaches he takes are as diverse and numerous as the kinds of movies in cinema. Some took him for the new John Woo... it's as true as to compare him with the Hui brothers. Let's stop labelling people, he's the new no one, he's just himself with what he brings of old and new. And secondly, the increasing attraction wich some people has for his films here in western countries seems to have no effect on his line of work, wich is not the case of many.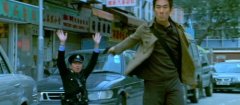 Although Johnnie To doesn't like one kind of movies in particular, we can still define three tendances : 1°) romantic comedies (Needing You, Love On A Diet) ; 2°) hybrids films mixing themes and atmospheres (Running On Karma, Throwdown) and 3°) thrillers alternating sleeping action and nervousness, with night shots of deserted streets, actual brand of Milyway. Breaking News fit in this last category. But forget the frozen nights "à la To", the story evolves in broad daylight, but the flotting moments between two scenes more punchy make us eventually remember movies like Running Out Of Time or The Mission, except that here everything lies in the instant. The movie starts on Richie Ren Xian-Qi's gang, ready to shoot early in the morning, and stops at the end of the same day not far from here. Added to other effects also well used, the "real-tv" side of the film is greatly reinforced by such temporal construction, and also spatial construction for two third of the movie takes place in a closed building.
In short, a gang of robbers from mainland are uncovered by cops and engage a real battle against them. But the "cops vs. mobsters" trick is a kind of old timer, so To has an amazing way of refreshing it with the creation of a third entity, a third power : medias. Because when Richie Ren shoot a cop in front of TV reporters passing by, the rules of the game change for the cops as for those they're hunting and their fight takes a new dimension, a mediatic one. Filled with fear to look like losers, the superintendant of the police Simon Yam Tat-Wah give to Kelly Chen Wai-Lam, young and ambitious officer, the task to twist the public opinion. From then on, it's a "great show", to use Kelly's words, that the police forces display. However, the robbers take refuge in a building where Nick Cheung Ka-Fai's cop team also run into. From there and with the help of technology and internet media, the mobsters deliver their own version wich leads to an information open war ; the Media becomes a new weapon in their battle.
Honk-Kong is a city where reporters of all kinds have achieved their social peak. As in other countries, the information seems to have become a product which sells very good, the info TV channels are many and it's simply his personnal opinion (rather negative) on this "over-information" phenomenon that Johnnie To shows us in Breaking News.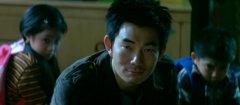 The visual work is really well-made, the movie opens on an unbelievable 8 minutes-long shot including dialogues and action sequences !!! There's no need to precise that on the set, pression was touchable. There is another long shot at the end but this one failed because the cameraman actually fell on Richie Ren during a crash scene. As other tools (true breaking news, long travelling...), those uncutted-several-minutes-long shots contribute to this "live" effect.
Actors are really heavy, To had the brilliant idea (that he already had in the past) to use them against the image people have of them. Nick Cheung play a rude cop who's problems with orders, while the usually nice Richie Ren receive the bad guy role, but as the cop is tough, the gangster has his tenderness. And that works perfectly, you don't expect any comic gimmmick from Nick Cheung (although he's more used to comedies) and Richie Ren's playing is quite realistic ; this role was actually the opportunity of his acting career. He, whom only nice and naive guy role was given to, has been contacted by Johnnie To who offered him the chance to prove to the people in the industry as well as in the audience, that he was able to play something else. And that proof of trust gave him wings cause he seems to keep the control all the way. We hope to see him more oftently in this kind of role, but anyway there's one thing certain, Breaking News launched the career of an deserving Richie Ren. Nick Cheung is also very convincing and, when you know the guy, seems to be transformed. Kelly doesn't impress much but looks right and shows a cold authority very persuasing.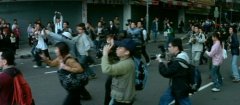 In Brief, Johnnie To offers us a good thriller spatio-temporally locked with a significative thematic, pretty satirist and more than ever of topicality. Breaking News also shows great actors an a visual technic already used but still not aged. An excellent movie wich shows to Hong-Kong that you can make a bankable movie wich can export without falling into americanism and who shows overseas that, inspite of kung-fu movies, Hong-Kong cinema can produce serious and great movies.
A good trial