François: I would like to begin by talking about your career before the movies coz for us here in France that's not easy to find information even in english, so tell me if I'm right, what I found is that you are born and raised in Canada, right ?
Karena: Yes
F: From Chinese Hong-Kongese dad and from Chinese Japanese mum, that's right ?
K: Taiwan Japanese mum.
F: Ok, so after that you moved to Taiwan where you began a singer career with a first CD in 95 and then you went back to Canada to study more about music, then back to Taiwan for a second CD in 99 and then you moved to HK to begin a career in movies. So everything is right ?
K: Yes, it's right. C'est bon (Editor's note: french sentence meaning 'that's right')
F: Sorry ? (<-- the side effects of early wake up)
K: C'est bon ? Is that how you say it ?
F: (Laughs), oh yes, c'est bon : )
F: About July Rhapsody, could you tell us how you got involved in the project ?
K: How I was involved… Well, basically with the producer Derek Yee. He saw me in some music videos so he filled me in. He filled me in to HK for a casting but after time Ann wasn't there so I phoned Derek and he's ok with it and then later on, we turned back to Taiwan. It was very funny coz he thought I was too nice for the part. And then I told Derek I wasn't nice at all and then I told him my experiences, my own personal experiences. And he was convinced. And I got the part in July Rhapsody. So basically it started out with Derek Yee.
F: And about your work with Ann Hui, she's well known as a great actor's director and I guess you were happy to begin you're career with her?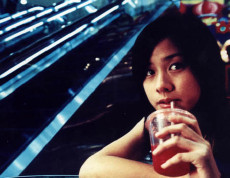 Karena Lam in July Rhapsody

K: It was pretty intimidating working with Ann actually, coz knowing that she was one of the more earlier female directors in Hong-Kong. So I assumed that she is a really tough and really mean, having survived in the film industry for such a long time. She's got a very steady reputation but working with her was so good because she's a real person. I mean she's very free-spirited, like when she wants to laugh, her laughs are very loud and she'd be like pounding on the ground and cracking up on everything else.

She's a person with a very big heart and it was really good working with her coz she gave me so much freedom. She gave me a lot of freedom because it was my first steady film so there was a lot of things I wasn't familiar with, such as film environment, so she just wanted me to go on and play around the role, she didn't gave me too many limitations. That was great working with her.
F: And I guess you were also intimidated to work with Jacky Cheung and Anita Mui. They are also very big names in HK industry. It was not to difficult to play in front of them ?
K: Actually, it was too bad coz I had no scenes with Anita but then working with Jacky actually I met him when I was sixteen so I wasn't intimidated working with them… I was more excited than intimidated. It was like a game with them.
F: Did you like him before? He's extremely famous for his music and movies.
K: We're in the same record company so I knew him. I've met him several times before I did the movie. It wasn't of too much like... so I knew him a bit. We were familiar with each other. But it was fine working with him because a lot of times on the set, I told Ann that I didn't want to tell Jacky what I'm gonna do in the subsequent scene and she's like : ok don't tell him cause I want to keep it spontaneous. I wasn't intimidated at all. He's very comfortable working with.
F: How did you prepare for your character in July Rhapsody. I guess it's not easy for you to imagine how to seduce a forty years old man. I guess you don't have any experience of this kind ?
K: Well maybe it wasn't too hard, it's just like, you know, a female nature. I had to be very performant because I don't live in HK. I wasn't raised in HK. I've never lived here so here in HK it's quite different from Canada where I was brought up.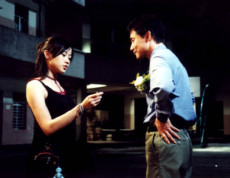 Karena in July Rhapsody
Basically before the film, about 2 weeks ahead, I spent some time with the other students in the film, I went joking with them, shopping with them, arcade, game centers. I was always asking questions because they speak with the slang. Teenagers in Hong-Kong they have a very lazy tongue so they don't like to say like they have a slang but they don't speak perfect Cantonese and so I had to learn the slang somehow. Well I just basically spent more time with them, and it was just to chat with them and ask them many questions etc etc... It was very fun.
And I practised drawing because you know in the film, she does a sketchbook, she'd always draw others in class. There was an artist who was doing the drawings, and then Ann asked me if I could draw, and I said, well I can try a scribble. She saw my drawings, she said, just use mine. I had to practice drawing. It was full of fun actually.
F: Your character in the movie was really different from the one in July Rhapsody, especially at the beginning of the movie. So was it easy to switch from one character to an other ?
K: No it wasn't easy at all. Actually I was quite frightened then. I always thought I was not able to do that, because I had played a student, and I had to go to a very different character, sensitive mentally. Very vulnerable. It was quite hard to deal. And honestly, I had doubts about myself, each day on the set I always asked Law Chi-Leung the director "are you sure?", if it's good, if I'm ok. He gave me a lot of confidence and of opportunities. I thank him for that. And I felt he helped me doing homework as well, prepare for the role, cause when I first came to Hong Kong, I didn't speak perfect Cantonese. And, it was OK to have a slang for July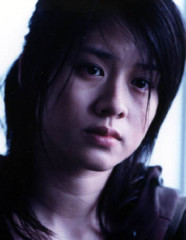 Karena Lam in Inner Senses
Rhapsody, in a sense they wanted me to speak local Cantonese, so I had to read the script each day for 35 hours for about a month, before we started filming.
And then afterwards, Law Chi-Leung brought me to a mental clinic, to observe, and do some homework there, I felt like depressed, and it did really open my eyes. I think it was the real purpose of going to a mental clinic, because in the movie, my character doesn't think she's insane. She just feels she's completely honest of herself, and no-one believes her.And so, therefore, when I was in the mental clinic I just tried to get up there like within 10 minutes, because I don't feel I belonged there and I felt I was feeling normal, I'm totally sane, so I don't understand what's the point in being there. That's a disturbing uncomfortable feeling, I felt that. After that encounter in the mental clinic, I was in July Rhapsody, how do I feel ? Well, I feel uncomfortable and I feel like I don't belong there.
But the scary thing when we went to that mental clinic, like we went with Law Chi-Leung and his assistant and they just left me there, and because you kind of snuck-in, because you know how to go there, if you are not a patient, so we snuck-in and I sat in the middle of the room, I was observing the little gestures, the little movements, doing homework, basically. That helped me a lot.
F: I guess you had a lot of questions about Leslie Cheung, your relation with him during the shooting, his sudden death and all that. So I'm not going to ask you too much about that. But how do you feel to be in fact his last lover, you're going to be the last one, right?
K:I don't know. His sudden death… I'm in shock. Everyone around the world is. As I knew him in films and as a person. I don't know… It was an honour being able to work with him. And being around with him. After the film, we kept in touch. And he was so sweet, he was such a passionate person. He knew that I was new in Hong-Kong, so he'd always offer me dinner, he wanted me in malls, and so forth, so I think there are many regrets, and it's, I mean, it's hard to say… It seems like he's never left us actually, to be honest.
F: OK, let's move to another topic.
Next movie, Tiramisu, why did you choose to play in Tiramisu already after playing in a ghost movie, was it more because of the romantic approach ?
K: Well I wanted to try Tiramisu because Dante, he's never directed a romance, he's always done action. And first there was the other cast, who was Nicholas Tse, and I wanted to work with him. It was a good opportunity. It was quite different from Inner Senses, because Inner Senses is a thriller, and as for Tiramisu, it's more like a romantic "lovy lovy" kind of thing, it was a different genre and I try to touch anything that's different.
F:And was it also to have a free ticket to see France? (smile)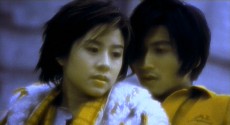 Karena and Nic in Tiramisu

K: yes, the castle in France… We went to Château Chambord, Pierrepont. So we stayed there for about a week. It was grat, it was my very first time in Europe, first time in France, I felt such regrets, because we had to rush back to Hong Kong. Cause after France, I went to Berlin, and then I had to rush back to Hong Kong. I wanted to stay a few days, actually stayed like one day in Paris. And I was so undecided, because I wanted to go to so many places, I only had one day and I was so greedy, I said "No I want to go here!", and I was having fun and everything, and so I'm like "No, noaargh!" you know, and there was pouring rain, we had no umbrella, but I was "I don't care" I was roving in the streets. And I went from places to places, as many places as we could before seven. So it was really fun. But still people ask me "How was Paris ?", and I say, "I don't know", because it was all such a rush. But I had a chance to go to some of the markets.
F: So I guess if you have another opportunity to shoot a movie in Europe, you will try to come back and see more?
K:Yes I would love to, but during the shooting in château Chambord, at Pierrepont, it was so beautiful. We bought that really big Brie (Note: a Brie is a french cheese). We finished it within like five days. It just feel so good! We had café, we had wine, it was great. I always think that in Hong Kong, our schedules are crazy, but in France, I think people really know how to work hard and play hard at the same time. It's great.
F: It's a good place for Hell I guess? (Note: the castle in France was used to symbolize hell in the movie)
K: Yes that's right.
Her career
F: Before talking about your latest project, I want to ask you questions about your career. How did you feel to begin your career with actors like Jackie Cheung or Leslie ? That's really an amazing beginning, right?

Karena Lam in Inner Senses

K: I think I'm really lucky, because, actually, when I came to Hong Kong for July Rhapsody. I was seeing one of those service platform. And to be honest, I had everything packed, my luggage (ready) each day, I constantly thought to go and get back in, because I always thought right after July Rhapsody I would return back to Taiwan to fnish my homework.So everything seemed so suddenly, It was really smooth, like right after the end of July Rhapsody, Law Chi-Leung casted me and he wanted me for the part, and then OK, I want to go to Taiwan after this, we went back home, and then Dante wanted to meet me, and so it just kept going, and I kept staying…

It was until I came to Hong Kong in July, and it was until Christmas I decided I was to settle down in Hong Kong. Everything just came so suddenly and so smoothly, it was really unexpected, and I think I'm really lucky. I think I give myself a lot of pressure because people give you opportunities, you need to try to do your best, instead of taking an advantage of it. So I hope I can try different genres of films, I always ask myself "What am I gonna learn on this project?", and then "Is it worth taking it on ?", and then I decide. I've been very lucky so far, and very fortunate.

F:And then you won two Hong Kong Awards in one evening, and it took more than ten years for an actor like Andy Lau to win just one. How did you feel about that?
K: I'm really fortunate.
F: But when you win an Award, that's some kind of recognition that your work is really good, it's not only being fortunate, is it?

K:When I got the "new artist" award , I was like, "OK, remember to thank to all the people that I'm supposed to thank", but unfortunately, when I went up, I was so nervous and I was looking down at all those people I admired, I watched their films and I felt so little, I thanked everyone except my family and friends, so when I got home, I had a hard time for three days.

But then when I got for the "best supporting actress", I was kind of sad actually, because I just thought everything came too quick, and I didn't think I deserved it, because it was so fast. I was not upset but I didn't feel that belonged to me. I know it's a strange reaction. My company they're like: "why are you so sad about it, why don't you enjoy it?". Up until now I never brought any of the awards home because once I get off the stage I just hand it over to my company, and they display them in the office.

I never brought any of the awards home. I wanted to get a fresh start each time, and learning things from zero, and I don't wanted to "Ho, two years ago I got this award, so and so". I don't want to become like that, because an award then I don't have to try hard. I like to start from zero each time.

F: On the contrary, It seems so make you work even harder to justify these awards, maybe ? You want to prove to maybe yourself that you deserved them.
K: Yes. I just want to make that breakthrough each time and learn a whole bunch each time, so, none of the way I can say I give myself a lot of pressure, but I think it's also a motivation, to keep going, keep going, keep going. And I really enjoy doing films, and I love taking part of it. And it's so great. How often do have a job that you enjoy so much and yet so make a living out of it. I mean it's the best thing in the world.

F: You don't really look like the majority of young Hong Kong actresses, I mean you're not skiny-looking, you seem more mature. You travelled a lot, you were raised in Canada, you stayed in Taiwan. Do you think you it's an advantage for you and that it can explain your success?
K:I really do think it has made impact on myself as a person. Because I was born and raised in Canada, and lived in Taiwan for so many years, and coming to Hong Kong, you see so much more, and you encounter so many more people and cultures. I think it's been a big impact on me, and my values, me as a person. I mean, I've seen all sorts of things along the way. I think as an actor or actress, the best lesson to teach you how to act is just living life, right? If you don't live the life, you won't be able to understand certain things. I mean if I was a dishwasher, and I never washed a dish, how can I act as a dishwasher?
F: Something totally different now, I know that you are preparing a new CD in Cantonese, is this right?
K: Coming on August but I haven't started recording, I'll start recording next week. So I'm quite nervous. (note: the recording has been since delayed to autumn)
F: And what do you prefer? Do you prefer to sing or to act?

K: I always give films first priority, I know it's mean to say this, but my company is always rolling their eyes at me when I say this, but to be honest films is something… I think because singing right now is…, I haven't started recording and I'm not ready for it yet. Each time I prepare for a job, I always have this process where I do homework, and then I get ready, and then I get into the situation. But singing, I haven't started singing yet, we're recording next week, so probably for a time I'm recording for the next month or so, then I'll get into the character of being a singer.

But being a singer is so much more personal, so I think I'm a little scared, as for movies, it's just not me and myself projecting a role. I need to rely a lot on costumes, on makeup, on lighting, on other actors, etc, but for singing, I think right know, I'm still at the posture where I'm kind of scared. I'm a little scared of doing this right now. I mean singing is so much more personal. The voice, you on stage alone… Singing is like telling people what you're thinking. And I don't really like people knowing what I think.

F: Of course, they know about you and you know nothing about them… It's not really fair.
K: Yeah, it's not really fair and I just feel standing on stage singing, right now, it seems like you're being naked on stage. They're letting ?to hear you. As for acting, people are like "Oh she's just portraying a role", they don't think it's you. Correct? It's much more personal.
F: But how do you see your career? Mainly as an actress, mainly as a singer? Both of them?
K:I don't know. Apparently, I see myself mainly as an actress, but I'm always changing, so you never know. Maybe after my album, I want to concentrate more in singing and less acting. I could never predict what could happen tomorrow but right now filming is so much my priority.
F: In your CDs are you writing something? Music, lyrics?
K:No, strictly recording lyrics. I've no talent in writing whatsoever. I'm not gonna go like "Oh, I want to do this…", no, no, no, I'm just gonna leave it to the professionals. I'm letting them handle it.
About Hong Kong cinema
F: Let's talk a bit about Hong Kong Cinema in General. You have already performed in two ghost movies. Once you were a ghost, once you saw some ghosts. Don't you think there were a little bit too many movies like that in Hong Kong in the recent months?
K: With The Eye and so forth? Like too many thrillers, ghost movies?
F: Yes, last year it was almost only comedies, and ghost movies in Hong Kong, so that was not easy to find good ones.
K:I think it's like coincidence. I mean one thriller and one ghost movie make a big success then ten other companies starting to make other ghost movies. I mean it's a trend. Trends start that way because when someone predicts "this is gonna be a hit", then when it hits, a whole bunch of people starts following the trend. It just happens.
F: Talking about success, if you look at Hong Kong's recent movies, there is Sammi Cheng, who is the new queen of box-office, there is Myriam Yeung, who is the new queen of Comedy, and there are young actresses like you and Angelica Lee who are trusting all the awards. Don't you think there is some kind of 'girl-power' in Hong Kong now?
K: I don't know, I really don't know, I never thought of it that way. I've always thought… it was a more male dominated thing you know? Maybe it's like Canada, you know, it's turned around right now.
F: The culture in Hong Kong is more male dominating, but when you look at the facts, it's the girls who are really ruling in Hong Kong cinema, now. That's kind of funny.
K: It should… As long as Hong Kong films keep up, I think it's good news, then. If we still continue making good films, and having good films, I think it's good news already.
F: I heard also that you were interested in playing in a Japanese movie as you like Japan so much. There seems to be more and more collaborations between Asian countries to produce movies. What do you think about that? Would you like to play in a movie which would be both Japanese and Hongkongese? Taiwanese…?
K: It's always great because it's like a learning process, and it's a good opportunity because you get a new audience, a new group of audience gets to know you. And I think every director has a different way of working and I think it's like a learning process, and I love to work. But I wouldn't mind collaborating. Currently we're talking about some project overseas and I hope everything will go well, and I keep my fingers crossed, I hope everything goes well. Because I would like to give a part.

F: HK cinema is facing its biggest crisis ever now. Were you a fan of those movies before ? Do you think it can survive with the concurrence of korean and japanese movies ?

K: Yes, it will survive, we always survive. But it will take a lot of time for us to think about new ways to attract the crowds. I think HK crowds are quite strange.... Recently, I know they all prefer to watch more films too, because they are stucked in Hong-Kong. (Smile). But then it's good because it means box office as well. I really hope that the coming summer will be successfull.

F: You played with famous actors of the old generation, like Waise Lee, Jacky Cheung, Leslie Cheung, and you played also with famous actors from the new generation, like Nic Tse and Eason Chan. Can you see a difference in their work habits?
K: They are different I think. First of all, I was with Leslie and Jacky. I really don't know how to say it, the difference, but it's just different. Like with Nicolas, we feel like we are learning things together. But with Leslie and Jacky, I get learning much from them. They are really so passionnate, and because they know that you are new, they are voluntarily sharing with you some points of view about acting. I think it's just a different way because they are more experienced, their mentality is different.
F: Don't you think that you have made three generations of Hong-Kong women jealous by seducing Leslie Cheung, Jacky Cheung and Nicolas Tse in your first three movies? That's quite dangerous right ? :-)
K: (Laughs). I had a lot of fun. They are such great people, people of talent. I'm so fortunate being involved with them. Even now, sometimes I sit down, it actually strikes me "Oh gosh, I'm born in Canada, and I'm now on the other side of the world!". I don't even understand how it all started. All I have to do is just cherish it, and really grab the opportunity and go for it, and just go on.
Floating Landscape, Truth or Dare and Floating Landscape
F: Now I would like to talk about your recent and current projects. First Floating Landscapes, I guess it's your first Mainland China movie, and with many Hong-Kong/China co-productions coming soon, what are your feelings about this opening of Hong-Kong movies to the Chinese market?
K: Mainland China is a very big market. I don't think Mainland audience really knows me very well. And first, the reason why I was part of this project is the script. Carol Lai, the director, she wrotes the script, and she directed it. She is very sentimental. I just loved the script, the first raw copy. It's very funny coz I got the script last June, a year ago, and then I casted for the part. And she told me that we may not be able to film that, because she still haven't found any investors. She gave the script to Stanley Kwan, you know Stanley Kwan ?
F: Yes of course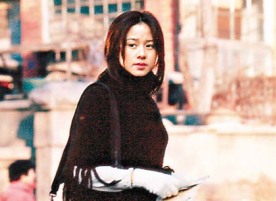 Floating Landscape

K: When he saw it, he liked it, so he helped Carol Lai to approach other film companies. It was a process which took from April till this January, when we started doing the film. So it was a big half year since I have the script in my hands. I knew it so well. I felt so related to this character. She looks very vulnerable at first sight, very soft and very tender. But she is very strong, very sensual. And I just loved that. And plus, the other cast was Liu Ye, you know, the mainland China actor from Lan Yu? I wanted to work with him so much. When I knew it was him, I was so excited, I saw his performances in the movies, and I just liked it. Working with him, I have learned so much. Because there are a lot of actors and actresses in Mainland China, they are trained for four or five years, in the University for acting, and I had no training what so ever. So it's totally different. The actors in Hong Kong don't have any training. It's just based from experience. Liu Ye is so good in interpreting, he can laugh in one second, and be inside the character the second after. I can't do that, I need some time to do that. So I learned a lot from him.

It was weird also, we filmed it in Qingdao in China, we were there for about a month and a half or two months. At the end, I felt so sad, you are with the all crew, the cast, everyday for two months, so you got very attached. But it was very good experience.
F: Next project, Truth or Dare. Since now, your characters were almost all dramatic ones. So did you get involve in this movie to try to extend your range of acting ? By trying some kind of lighter character ?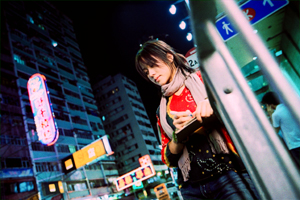 Truth or Dare

K: Yes. Truth or Dare is a comedy. It's a very real life comedy, based on a true story, I mean the character they exist, they actually did rent an appartment in Hong Kong. So it's a comedy, but we don't make funny faces to make laugh. They are real life characters, so that you can feel related to them. It was great, because Barbara Wong, the director, she has a very good sense of comedy. She came out of the Academy of Art in 1998, in Hong Kong, she is an actress herself. You know, she directed a movie before, Women's Private Parts. But she is an actress also, a trained actress, so she is very familiar with the actors' mentality. She really knows how to help us to build an environnement, or build a character. So it was really fun working with her. And she is very open minded about ideas. If you have an idea, or if you don't feel comfortable with something, you just let her know, she is very sensible. And she is very aware. And also, as it was a comedy, each day was like laughing part, it was really fun. I don't mind taking a few more comedies. Even if I was just really scared before, because I made more drama, so I was really scare being in a comedy, I don't find myself very funny. But I saw a little bit of this movie, and I loved it.
F: So it's not going to be like the Feeling 100 TV serie, it should be another point of view on Hong Kong youth?
K: Yes, it's very real. When you look at Feel 100%, I don't think teenagers in Hong Kong act like that. I think they are much more daring, aware of what they want. I don't want to make comparaison, but for each character in the movie, it's quite real, for instance I play a writer, I'm very open minded, I'm very artistic, very free spirited, and I make life look easy. We tried to put real life situations into the film, like unemployment, this kind of things...
F: And your current project, Heroic Duo, that's a big budget action movie. You played in 2 dramas, one fantastic movie, one romance, one comedy. So now you are trying another kind of movie again. Do you do that on purpose, or is it just by opportunity ?
K: I want to try new things. I thought the story was quite attractive, and I just thought I never tried this kind of movie, so I wanted to give it a try, kind of challenge myself. It's quite different and difficult.
F: Difficult physically ? Did you follow any special training for the movie ?
K: Yes, I went to gunnery, I learned some basic kicks, and punchs, and blockings. I didn't have yet an occasion to use that, but everyday, the action director is on the set, so I try to practise as much as I can when he is around. It's really different. I mean, in a drama, you take the time to really get everything, but in action, it's so much quicker. Maybe it's a different director, a different way of working. So I'm still trying to adapt.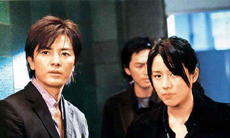 Ekin Cheng and Karena in Heroic Duo
F: what do you expect from a movie like that ? To gain more fame ? Or just to have fun? Or to make money maybe ?
K: No (smile)... It's just something that I want to try. And the opportunity came at the right time. Money is important of course, but I'm not a person of money, I'm very lousy at money. I'm more a person like "oh cool, I never tried it". And then I go for it. That's about it. It's very simple.
All our thanks to Suki and Karena for their kind help and availability, and also to Katherine Lee.