Very uneven actioner, hopefully getting better and better with the time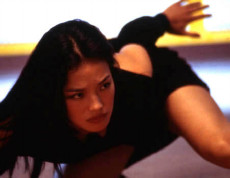 The beginning of So Close is really frightening. It's difficult to associate the names of Corey Yuen and Jeff Lau with what you will see on the screen. Dialogs are simplistic and uninteresting. Dubbing in cantonese is flat. Action scenes' rythm is totally messed up by the poor editing and a good but totally unappropriate music. Actresses are not convincing as martial artists. SFX are often poor, and the technological gadgets are just laughable.
Hopefully, it goes slowly better and better. First when you switch the mandarin track, where the voice are far more convincing. Then when Jeff Lau begins to built real characters and relations. Finally when Corey Yuen delivers the action scenes everybody was expecting. So Close is more ambitious than the totally silly but more enjoyable Naked Weapon. But its poor first half is really a drawback, preventing it from becoming a must see for Girls With Guns Fans.
Still, there is interesting stuff in this actioner, it mainly requires to wait for the second half and not to be too demanding. Jeff Lau succeeds in adding some interesting ideas in his story, just as in She Shoots Straight, another serious GwG made by Corey Yuen. The use of high tech gadgets becomes enjoyable at the end, and evoke also the relations that we can have with our memories through images. It leads to a surprinsigly moving scene in the cemetary. Then there are two or three surprising ideas which will wake up the spectators, and a more involving story between the two sisters. It's never original, it's often too simplistic, but there is an obvious will to be more than a silly action flick.
But anyway, you don't really watch this kind of movie for the plot. So when it comes to pure action, let's say that the movie is getting better and better, leaving the best for the very long last scene in the skycrapper. Corey Yuen is clearly not the best action director when it comes to use non-martial artists. It's obvious here during the first half, but becomes much better at the end. And it's always a pleasure to watch Hsu Chi, Karen Mok and Vicky Zhao. The movie spends most of its time revealing their nice figures, even if it makes it look like a Playboy video. But why not after all, HK movies were never really subtle.
So finally, So Close is quite up to the HK standards for action movies, with its long climax, battling babes and silly yet surprising plot. The poor directing, use of music and rythm, especially at the beginning, are still big disadvantages. But it's better to begin poorly and finish on a good note, right?
So Close to Boredom...
The trouble with So Close is that it's nothing. Jeff Lau should be praised for a screenplay that makes wonder if Wong Kar Wai wrote the very good Chinese Oddissey 2002 while his back was turned. Here it's just James Bond like scenes followed by interior sitcom-like scenes, "lovers meet again scene" which are unbearable, and an advert-like kissing scene interrupted by action. But the music is worse: it mixes Hans Zimmer, 80's like saxophones, new age, bad R'N'B, bad melodrama music and eurodance. And even when the movie plays a great tune (the classic They Long to Be Close to You of which the Farelly brothers made a better une is There's Something About mary) it doesn't work because it doesn't fit the action scenes. And there's Corey Yuen's direction: unappropriate use of documentary-like cameras, an often too fast editing in the action scenes, the compilation of hk or worst of hollywood visual clichés (the two guns, the Matrix-like flying scenes, the horrible accumulation of SFX and MI-like high tech). And even when the screenplay has a good idea it ruins it with the Documentary-like cameras. And if the Bad Guy has a presence, most actors have the charisma of a turtle. And the ladies? They do what they can with their characters so it's no wonder their performances ain't great. This movie makes us want Shu Qi to team again with Hou Hsiao Hsien (who directed her in his classic Millenium Mambo) rather than playing without any conviction her character in the film. The only good thing about the movie is that it's an advert against the bad use of foreign money by Hong Kong cinema. It's bad but more like the usual formated US action movies than how deliriously bad Hong Kong movies used to be.