A romantic comedy, worshiped by many and yet without any pretention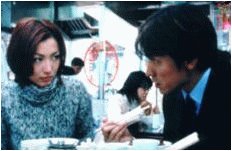 Contrarily to what people thinks, Needing You isn't the first comedy nor the first romance of Johnnie To Kei-Fung. Even if Milkyway Image, his production company wasn't quite a specialist in this aera, To was already meddling with all kind of things. In 1990, he'd already produced A Moment Of Romance (a must-seen in HK) and personnaly directed the two sequels, but we also find him behind the camera of Justice, My Foot !, a Stephen Chow Sing-Chi movie (a good one, on top of that), anyway, it wasn't his first try. However, Needing You was his first film using (revolutionizing ?) a well-known kind of movies of hong-kongese cinema : the chinese new year romantic-comedy ; films with well-behaved romance and typicals characters, running-over easy feelings and most of the time conclued by a fortunate happy ending.
What you have to know is that after a wave of great thrillers (we all know movies like The Mission, Running Out Of Time or A Hero Never Dies), the post-handover period stroke Hong-Kong cinema, and Milkyway didn't escape from it. Johnnie To chose then an old line of work : shooting commercial projects to earn enough money to produce more personnal projects. And when you watch To's filmography, it's almost "a comedy, a thriller, a romance, a drama, etc...". And Needing You is his first smash-hit in this aera (except for an ambiguous Spacked Out and a more conventional Help !!!and launched himself on this alternation new way.
Here is the recipe : take the two biggest stars : Andy Lau Tak-Wah and Sammi Cheng Sau-Man, fit them into stereotyped characters, plunge them into an even more stereotyped scenario during a good hour and a half, sprinkle the whole with a dose of good mood, let it simmer in theatres for a few weeks, and here you have a nice smash-hit.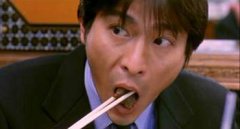 And despite the visible lack of originality of the film, you still find something weird (some people name that the Milkyway's touch) wich makes the whole work properly. The scenario, inspite of an uninviting convenience, stages some stereotyped characters alright, but in a good way. Except maybe the two main ones who yearn for deepness (however, too much deep, would they've contrasted with the surrounding lightness), the secondary or tertiary characters are very representative of the local population : Kinki's (Sammi Cheng) parents who borrow all her money to gamble it in the stock market along with the house mortgage (you see...) and who have only one care for their daughter's love life : how much does the one she's dating make ; the hopeless chitchat queens of the office (the backstairs gossip spreading scenes are pretty original), the team chief (Lam Suet) who slides english words in every sentence, etc...
For the story is centered on the Office, Needing You even tend to have a kind of documentary point, filming this little world and all that it includes : the entertainment evenings with clients, lunch bites around the corner, departement squabbles, etc... And it's this daily grind between colleagues which, against everything, will bring the boss (Andy Lau) and his secretary (Sammi Cheng) together. By the way, you can notice the irony Andy Lau and Johnnie To show through self-parody when Andy comes across a mysterious rider named Wah Dee (name of Andy's character in A Moment Of Romance, produced by Johnnie To).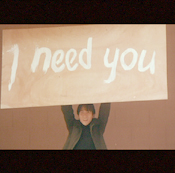 Actors are good, Andy is inclined to pisses you off during the first part of the film (the role asks for it) but later become really endearing when Kinki is about to crush on another indirectly because of him. Sammi Cheng runs all-out in a "hysterical teenager" way and plays it well but still and all, ends up being annoying. She also offers us a very an energizing song wich conquered the charts at that time.
In Brief, Milkyway straighten finances with this romantic comedy and even allow itself to make a good movie out of it ! Indeed, Needing You scored as a remaker of the kind and as the first film of this kind to bring a famous couple together : Andy Lau and Sammi Chen, nevertheless the succes that the film knew is worthiness. A romantic comedy, light and with a communicative good mood...a nice moment.