A dark picture of Ta´wan society, named here the "Island Of Greed"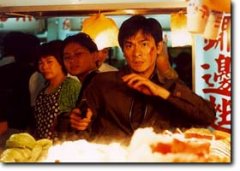 The title of the movie is limpid concerning the main theme. Island Of Greed, depict in a very dark way the Ta´wan society. So first, we're obviously far from regular Hong-Kong triad movies.
Because there are great distinctness between Ta´wan triads and Hong-Kong ones. If in Hong-Kong, despite all the unfortunate consequences it may have, triads are still criminals more or less chased by police forces (mostly by the OCTB = Organized Crime and Triad Bureau), in Ta´wan, even if they also are outlaw, triads managed to invade Ta´wan society to the highest level. That explains the fact that in Ta´wan, and there only, senators often come to blows in the middle of the assembly and hence increase the viewing audience these last years (political wrestling ...!). This also explains why the island political leaders earn among the greatest salaries in the political world (in order to hold back corruption, of course). Finally, this also explains the clutch of bizarre "falls from buildings" of some people connected to the "ta´wanese frigates" case (a controversed affair involving Thomson leaders and french governments members in a murky corruption case of ta´wanese officials wich led to the death of several related people, from Paris to Ta´pei).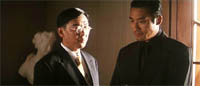 The story gravitates around two main characters : a ambitious gang leader (TonyLeung Ka-Fai) and a big-hearted cop (Andy Lau Tak-Wah). Although the mobster's character, due to its construction and the unblemished playing of Tony Leung, is more important than the cop's is, there is a true parallelism of their journey, strewed by comparable obstacles. I don't know exactly what the Maks had against Ta´wan, however the image they give here is as shabby as possible. And every environments are targeted : the police world, where you can see a naive Andy Lau getting restrained by his superiors as he progress in his investigation ; the triad world where you see Tony Leung Ka-Fai trying to dig his way through the political world with the support of his bosses who yet take it back suddendly as the first little snag comes up, where he as the ones surrounding him are as rotten to people that they are to each other. But also media world and all the detrimental influence they can have on society, trough the reporter played by the smiling Annie Wu Chen-Chun (the charming diver in Jackie Chan's First Strike) ; the religion world as well, the tao´st one precisely, wich covers mobs by selling funerals urns while the millions of dollars of "donation" that Tony Leung pays for it are actually the agreed amount of bribes he has to give. The working-class world is also aimed for it is the last link in this infernal machine (refering to the riot of the taxi drivers). Dirty cops, mobsters as scrupulous as reporters, tao´st priests who cremate triads victims, you understood that Ta´wan owes in this film the title of Island Of Greed.
You can't say that visual direction is not memorable, the directors didn't do anything since, for that matter (whacked by Ta´wanese triads ?...). The scene where a pack of dogs not quite engaging chase Andy Lau and his colleagues on bikes, create some spark though, thanks to a pretty absorbing rythm.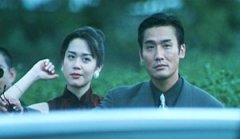 Tony Leung Ka-Fai is majestic, he slips on a kind of role we like, a heartless Tai Lo (boss) as stylish as he's dangerous. Andy Lau doesn't defend himself too bad though, especially when you know that the movie is of course in mandarin ; he gets the righteous knight role however for once, it's interesting for it's placed in an opposite environment here. Annie Wu brings some freshness with her not-so-useful romance with Andy, and that lighten a bit the dark tone of the whole.
In Brief, the Ta´wan society and every social environments that compose it are depicted in very dark way in Island Of Greed. The movie, despite launching a X smack to the island of greed, is a very good social thriller to see.