Glass Tears
Plot: Cho, the daughter of Carrie Ng, has run away from her home. Instead of calling the police, Carrie asks her father (Lo Lieh), a former policeman, to find her. He will meet P (Zeny Kwok) and his boyfriend (Tsui Tin-Yau), two teenagers with no future, and together they will search for Cho.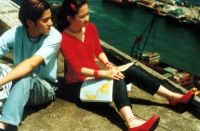 Sometimes by seeing the little Cannes logo on the cover of an Asian movie dvd, you could expect a long, lifeless and boring movie which is aimed to an international audience in need of some exotism and austere direction… In the case of Glass Tears, the very first minutes could give this impression of movie only made for a fanatic arthouse audience with a very straight and severe direction with nearly-mute sequences but the movie finds his own tone very quickly (or maybe Carol Lai knows how to catch the viewer's attention) with the characters of Lo Lieh and Zeny Kwok. From this point, the movie follows the erratic behaviours of the characters in the streets of Hong-Kong. But we are very far from the pessimistic mood of movies like Spacked Out and closer to a character study in the vein of Autumn Moon. The starting point of the story (Cho) is just a an excuse, like the investigation in Bullets Over Summer, and Glass Tears share the same thematic with Wilson Yips masterpiece as they show how different people get to know each other and create a new family. The time we spend with Lo Lieh and the two kids makes them attractive despite their unclear future. The young Zeny Kwok brings a lot of energy to the movie without caricaturing her portrayal of a little girl who has grown up too fast and knows life can be harsh sometimes. At the opposite of this gen-x girl, Lo Lieh proves with his final film that he's more than just a kung-fu actor by injecting is own personality in his character of a an understanding grandfather and those sunglasses makes him so cool… We could just see his performance as his own epitaph which he left to us.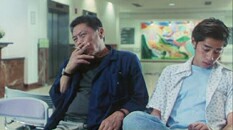 The screentime accorded to the parents of Cho is short and we could say that their characters are under-developed but with a little bit of reflection, it's a very good choice because with just a few scenes, Carol Lai succeed to present the despair of this couple without taking melodramatic ways. This choice can be easily be seen by the directing style which emphasizes the lack of communication in this couple and the way they can only express themselves by indirect actions (like when Tats Lau shops at the Hello Kitty store or plays accordion I the park or this excellent long shot of Carrie Ng crying silently during a dinner). Another quality of the movie is the editing which uses a lot of flash-backs and sequences with fast cuts creating a good rhythm within the narration. Sometimes (despite the serious and dramatic content), the movie just goes in some dreamy moments reflecting the quiet inner world of its characters. When Glass Tears finishes, you just feel the peace in your mind because it's a very honest and modest movie, made with a lot of heart by the whole crew and casting. It's just the kind of little gem that every connoisseurs is looking for and once again, I can only say thanks to Joe Ma for being one of the leading man of HK cinema who can inject new blood in the current industry.