Kong Hei Fat Choi...Spirit !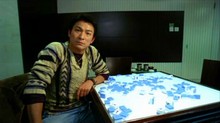 After all the gambling movies you could've seen, you thought this kind of films could hardly surprise you, and yet, Johnnie To Kei-Fung & Wai Kai-Fai brings such a new treatment that the result happens to be amazing. Indeed, after the very first God Of Gamblers, the Casino Raiders and then the Conman, Andy Lau Tak-Wah seemed to have played a quite complete range of gambler roles...it was wrong, for Fat Choi Spirit isn't a typical gambling movie at all and brings a new type of gambler.
First, the seductive cards leave it to cultural mahjong tiles and the glamourous atmosphere of To-San's movies leave it to a much more realistic one. The story is yet noticeably the same, you follow a character unfailing at games (here Andy Lau), except that To-San travels all around the world and makes millions, Mahjong Warrior (Andy) plays with riches and others and never say no to a small game.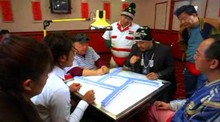 Alright, cards (poker or other) can bring in lot more money than mahjong, more popular ; nonetheless, I think that it's more the will to make simple which brought Wai Ka-Fai and Yau Na-Hoi (the two writers) to mahjong rather than the contrary, that is to say, that the fact that this game doesn't bring much money brought this simple and realistic treatment. Andy has a family (mother and brother), it doesn't go really smooth with his girlfriend, in sum, Mahjong Warrior's life isn't really sweet. And mostly, something that wasn't present in the God Of Gamblers films is brought here : defeat. You thus learn that Andy has not always been a winner and that he even was a looser with big debts for a long time. He also says throughout the film, and that's even the reason why he keeps rejecting Gigi Leung Wing-Kei, "A good character makes a good player", which is not the case of the schizoid Wing-Kei. He teaches her that even if he always win, defeat doesn't scare him, and that on the contrary (and he'll show it) he loves to play, whether he wins or loses.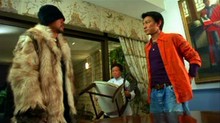 Andy is rather uneven, he happens to be a bit flat in some scenes like the reunion with his mother and tend (as always) to watch himself too much while playing but shows real talent in gambling scenes, with very realistic looks and gestures, in easy victory like in fair-play shutout. However, it's obvious that Gigi, even if she becomes kinda annoying sometimes, but mostly Lau Ching-Wan lead the rythm with their rollicking playing and their whacky looks (Gigi changes costumes evry five minutes, while Ching-Wan is more West Coast Gangsta like).
In Brief, the movie is deserving for it recapture the unfailing gambler concept "a la To-San" but modestly revolutionize this kind od films because Fat Choi Spirit, besides good actors and enjoyable atmosphere, brings new perspectives to Gambling films, like to accept defeat. However, for those not initiated at all to mahjong, it'll be hard to catch the tension during games, yet for the braver ones and for those who vaguely knows "Characters", "Circles" or "Fat Choi", go for it, it's refreshing.