An excellente surprise
Really impressed by the violence of the film at the beginning, I have been quickly fascinated by Danny and his new adoptive familly composed from Sam the nice and patient guy and Victoria the young girl full of life. On some aspects, Danny has some similarity to Leon.
For the action everyone should be satisfied. The fihgts are at the level of Jet Li. Of course, that's the major reason why the public is going to see the film. For some of you, the sotry will be to nice or clichee, but if you don't want to go alone to the film and take your girl friend with you, it's also good... The choice to give an important role to Morgan Freeman goes also in this direction.
Jet Li's most touching film : the choice between the collar and the piano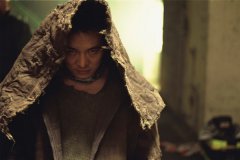 When you see Jet Li Lian-Jie and Luc Besson together, you can't help thinking about Kiss Of The Dragon, their previous collaboration. Well, let the word spread, Unleashed has nothing comparable to Kiss Of The Dragon, and honnestly, differs from everything Jet coudl've done in Western countries.
The film is extremely well summarized in the catcher : "Chained by violence, freed by music". Cause here lies the topic of the film, the awakening of a man who's been made regress to the state of a beast, through the learning of piano and the discovery of a new family. But before anything else, Unleashed talks about the story of a "hunting dog", tamed to kill by a scottish loan shark (Bob Hoskins) who will, because of an accident, be separated from his master and picked up by a blind piano tuner (Morgan Freeman) and his daughter who will modestly show him the world fom which he's been cut for so long. And at some points, you surprise yourself to take this story to an other level and you think to the fate of fighting dogs which, just like Danny in the movie, are before everything unhappy and terrorized and only attack by fear.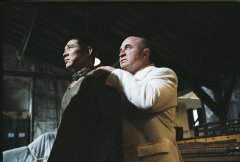 The screenplay, besides, doesn't allow itself to go into the few facilities though tempting like for exemple, the fact that Danny is accidentally brought to fight in an arena and that he's not just for the nth time, a trivial streetfighter ; wich makes the mentionned fights even more enjoyable. Or also that the scene doesn't take place in Paris, not in New-York nor in Los Angeles, not even in London, but in a shabby Glasgow, close in some scenes to Gui Ritchie's films (Lock, Stock and Two Smoking Barrels ; Snatch...). Contrarily to Kiss Of The Dragon, Unleashed doesn't suffer much from its Bessonian mark (no Taxi-like chasing, no Yamakasi-like GIGN (french swat team) intervention, etc...), although the Europa touch remain clearly identifiable.
Actors are all very good, beggining by a very human Morgan Freeman who compensates for the brutality of Bob Hoskins, in the shoes of a charismatic small potatoe (the oxymoron justifies itself, you'll see...) who manage to enslave a rabid Jet Li who receive a not-so-speaking role but on the contrary very physical (concerning body as well as face) which suits perfectly (shall I remind you that we're talking about a dog ?). Except at the very beginning of his career or on Hero, Jet Li never had the chance to evoluate in a cinema industry linguistically favorable for him. Indeed, in all the HK movies we love so much,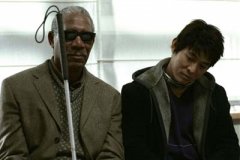 it's not Jet's voice but his dubber's that we listen to (in the cantonese version as well as in the mandarin one) and he plays now in english, language that he masters too poorly to concentrate only on the emotion of the text and not on the pronounciation. Therefore, Jet's main expressive trump has always been his features ; we all shrink back in our seats when a close-up is made on Jet's face in the middle of a fight. Which appears to be most useful here and to give him the opportunity to be really touching and to stir up compassion among the public. Anyway, Jet Li shows us that contrarily to Jackie Chan, Chow Yun-Fat or Michelle Yeoh who collect more or less half-assed productions, surprisingly, he seems to be the only "Hong-Kongese" actor to have succefully exported himself and to shoot a few interesting movies in Western countries.
Fights, choreographed by Yuen Woo-Ping, have a kennel agressivity and are really similar to dog attacks, with a Jet Li way more bestial and efficient than techinical which, through that point and in that film more than in the others, proves that Jet Li is the antithesis of a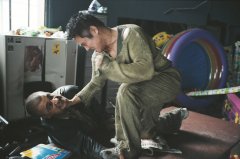 Bruce Lee ; Jet doesn't settle for a single blow to knock out an opponent, he just fiercely smash his head with his elbow or with a 5 pounds sledgehammer. Because the confrontations, even if only a few blood is shed, are incredibly violent, the whole carried by a rather nervous direction and fighters who, just like in Blade 2, allow themselves a few wired spins but land back in an uproar and seem pretty heavy in impacts.
Concerning music, the soundtrack is played by Massive Attack which, before any artistic reflection purely subjective, has the good point to change compared to usual Hip-Hop sounds in that kind of productions.
In Brief, it may not be his best film, it may not be his most beautiful one neither, but Unleashed, besides and despite showing mind-blowing and violent fights, is surely Jet's most moving and touching film. A very beautiful movie which skillfully mix violence of a being torn between his life of fights ans his dreams of escaping through music. A must-see.