A romantic comedy quite westernized but funny and original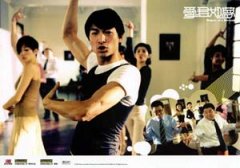 For this romantic comedy quite conventionnal, you could expect an classic chinese new year film atmosphere. But Dance of Dream, like many HK movies since 1997, tends a bit too much toward internationalization maybe even westernization. As proof for this, Edison Chen Koon-Hei's line at the end (but don't worry, that doesn't spoil anything) : "Merry Christmas, everybody !", replacing the usual "Kong Hei Fat Choi !" (the equivalent of our "happy new year") of romantic comedies finales like Fat Choi Spirit of cours, but also so many others like All's Well, End's Well, for exemple.
Anyway, try to picture a american director making a movie about, let's say New-Yorker in a Tai-Chi class, and you'll understand that by taking a Tango class in Hong-Kong as base of the film, Andrew Lau Wai-Keung couldn't have antoher result. A rather hype atmsophere then, with Anita Mui Yim-Fong represnting some hong-kongese business/jet-set social class, Edison Chen bringing the youth touch in a romance quite different from codes of this genre of films, a clean and modern portrayal of Hong-Kong, far from romantic-comedies often visually tipically local (the old Hong-Kong in Herbal Tea, small restaurants ands other typical places in Needing You, etc...).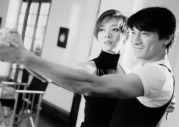 But the humour too is also more "exportable" and is anyway often less childish than in classics of the genre with some famous HK singers parodies or musical comedy scenes very nice but radically different from what's usually done in HK, and even the romance (maybe because of a mature Andy Lau notably) has more maturity than usually though it doesn't allow itself to some "risky" path (SPOILER put the cinderella Sandra in prince Andy's arms FIN SPOILER).
Actors are good, with Sandra Ng Kwun-Yu in the lead with a quite fresh performance of her character without any real happiness and yet so full of life and dreams, actual analogy of a Cinderella living in the only purpose to make the moment when Andy pull the ballet shoe on her feet, an eternity. Anita Mui is also very convincing however her character is quite despising character (but that only means she's good), however she appears to be a bit poor in dance phases despite her long dancing career which led Andrew Lau to dub her in the main dance scene.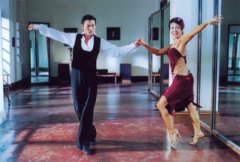 Andy Lau Tak-Wah on the other hand, thanks to his large "on stage" dancing experience (during his concerts), is very convincing in those same sequences and gives a good interpretation of his dance teacher role, a bit looser but who has dreams that lie with some cynicism and great sacrifices, including on the love xxx. Suppporting actors are also vey good, like Gordon Lam Ka-Tun who brillantly plays his part but also Lam Chi-Chung (Stephen Chow Sing-Chi's new stooge) and Cherrie Ying Choi-Yee, pretty funny in their lousy dance students roles.
In Brief, it's a hong-kongese romantic-comedy which at least happens to be original in his story like in his treatment. Actors are refreshing, mostly Sandra Ng just as funny as she's touching and the direction wisely step aside. Dance Of A Dream has nothing really extraordinary, but still remain a enjoyable movie.
A decent comedy, with a nice performance from Sandra
This Christmas comedy is not revolutionnary of course, but there is still enough to enjoy it if nothing more. First because Andrew Lau is quite quiet behind his camera, no useless effects here, no circular travellings all the way, the movie is quite well done and good looking. Andrew is a very good technician, we knew it for a long time already. Then because the comedy part is quite funny, even if not hilarious (with an excellent imitation of Leslie Cheung by Andy Lau). At last because Sandra Ng is a great actress and she is the best possible choice for this kind of character. Andy and Anita add some talent to the cast, even if the last third of the movie is less convincing, especially the ending. Overall, it's a decent comedy, quite well done if not original.